As summer sets into the Land of 10,000 Lakes, Twin Cities' dwellers and visitors alike are on the hunt for the perfect spot to quench their thirst. Let's toast to the diverse and innovative bar scene that has emerged in the Minneapolis-Saint Paul area, bringing together the best of Minnesotan hospitality, creativity, and love for a good drink. We've explored, researched, and hand-picked the 15 top bars that you should visit in the Twin Cities this year.
1. Marvel Bar, Minneapolis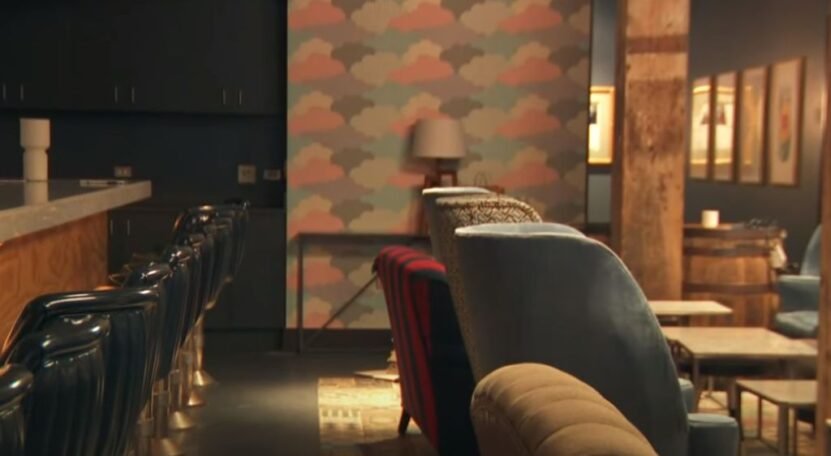 The iconic Marvel Bar needs a little introduction. Nestled beneath the Bachelor Farmer restaurant, this hidden gem has been leading the cocktail revolution in Minneapolis since it first opened.
A Different Kind of Marvel
Marvel Bar is known for its cozy, secretive atmosphere, making the discovery of its entrance part of the fun. Inside, you are welcomed into a dimly lit, intimate space with sleek, minimalist decor. Known for its craft cocktails, Marvel Bar constantly reimagines and updates its drinks menu. A perfect blend of classic and innovative, the cocktails are artfully presented and often feature unique ingredients like ginseng, truffle, or sesame.
The Marvelous Menu
The drink menu at Marvel Bar is well-curated and covers a wide range of preferences:
"Olive," their signature drink, a fascinating mix of gin, olive, and chartreuse
"Fig Leaf Fizz," an intriguing blend of rum, fig leaf, lime, and egg white
"High West," a whiskey cocktail for the classic enthusiast
Food-wise, Marvel Bar doesn't serve a full menu, but they have excellent olives, almonds, and cheese plates to accompany your drinks.
2. Volstead's Emporium, Minneapolis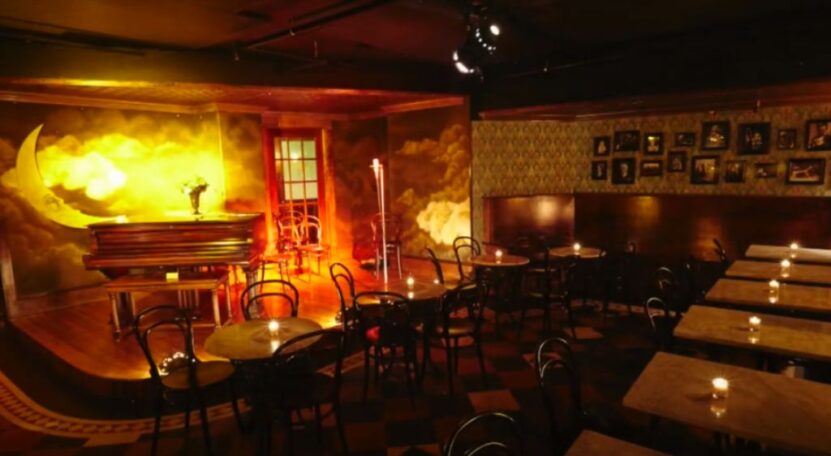 Hidden away in an alley in Uptown Minneapolis, Volstead's Emporium is a lively speakeasy that offers an unforgettable experience of the Prohibition Era.
Step Back in Time at Volstead's
At Volstead's Emporium, you are instantly transported to a different era. Knock on the unmarked door, and step into a world of low lighting, plush seating, and vintage decor. The atmosphere is filled with jazz music and the buzz of patrons enjoying their evening. The bartenders at Volstead's are true craftsmen, mixing cocktails that stay true to the era while also introducing modern twists. Alongside the drinks, the bar offers a tantalizing food menu, making it a perfect spot for dinner and drinks.
Signature Cocktails and Eats
Some signature drinks and dishes at Volstead's Emporium include:
"The Brown Derby," a blend of bourbon, grapefruit juice, and honey syrup
"Bee's Knees," a classic cocktail with gin, lemon, and honey
"Dry Aged Duck," served with morel mushroom, English pea, and black garlic
3. The Freehouse, Minneapolis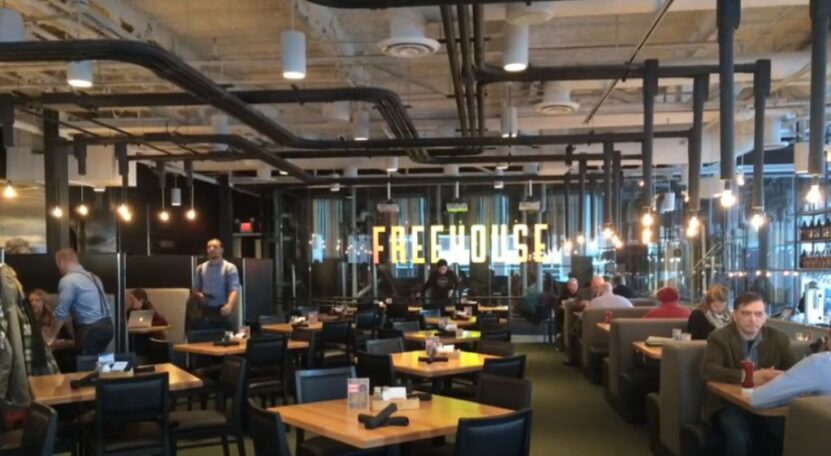 As a local brewery with a fantastic bar, The Freehouse offers patrons the chance to enjoy a wide variety of house-brewed beers and high-quality food.
Brewing Excellence at The Freehouse
The Freehouse stands apart with its unique concept — a brewpub that serves breakfast, lunch, dinner, and late-night eats. The brewery operates in an open view, and they offer a spectrum of beers from light to dark, each with its distinct flavor profile. The venue is modern and lively, with an industrial-chic interior and an inviting patio area. You can watch your beer being brewed, savor a hearty meal, or simply relax with friends over drinks.
Taste the Brew
The Freehouse offers a range of signature brews:
"No. 1 Kolsch," a light, crisp beer that pairs well with any dish
"No. 3 Brown," a malty brew with notes of chocolate and caramel
"No. 13 Imperial Stout," a robust, rich beer perfect for dark beer lovers
4. Psycho Suzi's Motor Lounge, Minneapolis
From the moment you cross its threshold, Psycho Suzi's Motor Lounge promises a wacky, tropical-themed experience along the shores of the Mississippi River.
Tiki Culture at Psycho Suzi's
Psycho Suzi's Motor Lounge is a unique haven of kitschy tiki décor, fruity rum concoctions, and warm breezes on the spacious riverfront patio. This multi-level complex houses several themed bars, each presenting its own character while maintaining the overall tiki aesthetic. The staff are as vibrant as the décor and drinks, often dressed in Hawaiian shirts and always ready to serve with a smile. The atmosphere is relaxed and fun, and the place often comes alive with live music and events.
Tiki Delights and Bites
Psycho Suzi's serves up some of the best tropical-inspired cocktails in town:
"Shrunken Head," their iconic drink, a bold blend of tropical fruits and rum
"Psycho Zombie," a mix of pineapple, orange, blackberry, and a variety of rums
"Ginger Grant," a refreshing cocktail with vodka, ginger beer, and lime
Their food menu features tiki bar favorites such as pizzas, burgers, and an array of appetizers like "Polynesian Wings" and "Shrimp Po' Boy Sliders".
5. Palmer's Bar, Minneapolis
Palmer's Bar is a legendary Minneapolis watering hole that oozes history and authenticity with its cash-only policy and diverse crowd.
The Historic Palmer's Bar
Stepping into Palmer's Bar, visitors are greeted by an ambiance that is as rich as its history. This iconic dive bar, known as "The West Bank's Oldest Bar," offers a glimpse into a bygone era with its vintage decor and intimate atmosphere. Aside from the rich history and unpretentious charm, Palmer's Bar offers a stellar lineup of live music performances, attracting patrons from all walks of life.
Drinks and Dives
Palmer's Bar offers simple, straightforward drinks and is particularly known for:
"The Pickle Tickle," a shot of bourbon with a pickle juice chaser
"Palmers' Hot Nuts," a classic bar snack with a spicy twist
6. Red Stag Supperclub, Minneapolis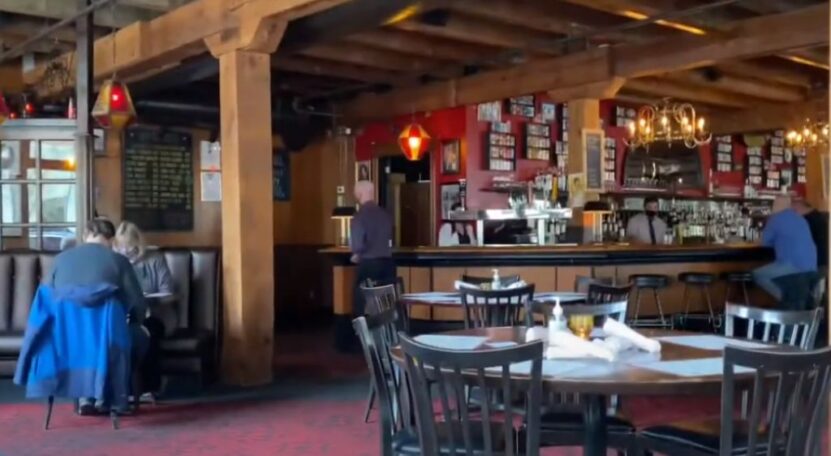 Red Stag Supperclub combines a sophisticated, retro vibe with sustainability, as it was the first LEED-Certified restaurant in Minnesota.
The Elegance of Red Stag Supperclub
Red Stag Supperclub transports visitors to the mid-20th century with its Supperclub theme and a focus on classic dishes and cocktails. The bar maintains an elegant yet relaxed atmosphere with vintage decor, warm lighting, and a welcoming outdoor space. Their drink menu is robust, with an emphasis on classic cocktails and an extensive wine list. They also place a high priority on sustainable practices, both in the kitchen and behind the bar.
Drinks and Dishes
At Red Stag Supperclub, you can enjoy classic drinks with a modern twist, such as:
"Blackberry Old Fashioned," their take on the timeless cocktail, featuring house-infused blackberry bourbon
"Red Stag Martini," with gin, sweet vermouth, and orange bitters
Their food menu is just as appealing, featuring dishes made from locally sourced ingredients, such as their famous "Porchetta Sandwich".
7. Lawless Distilling Company, Minneapolis
Lawless Distilling Company is an intimate, modern cocktail room serving up innovative cocktails made from their house-distilled spirits.
The Craft of Lawless Distilling Company
As both a distillery and a cocktail bar, Lawless offers a unique experience for visitors. The industrial-style tasting room is spacious yet cozy, with inviting lighting and rustic furnishings. The distillery is known for its quality spirits, including vodka, gin, and rum. These form the basis of their cocktail menu, which ranges from timeless classics to creative concoctions featuring unique flavor combinations.
Cocktails and Curiosities
Lawless is renowned for its craft cocktails. Standouts include:
"Greenway," featuring their house-made Tippling House Vodka, honeydew melon, cucumber, and mint
"Fig & Fennel," a rum-based cocktail with house-infused fig and fennel rum, lemon, and honey
Their charming "Bittercube Bazaar" also offers cocktail enthusiasts a range of artisan bitters, cocktail tools, and home bar essentials.
8. Gori Gori Peku, Minneapolis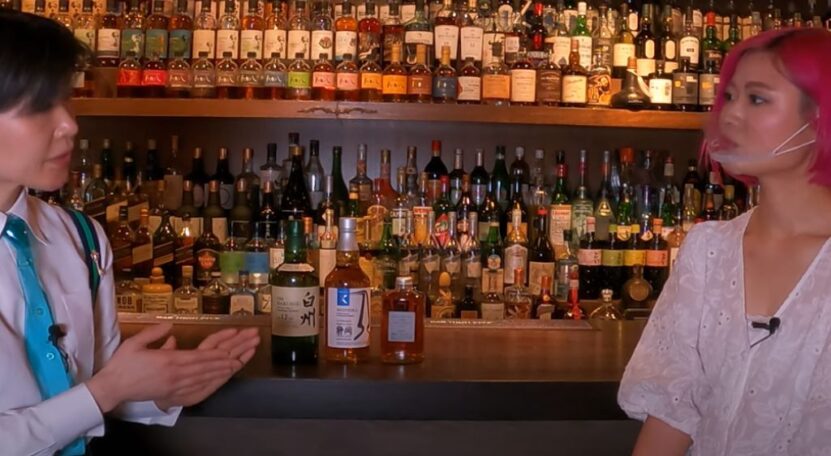 Gori Gori Peku is a Japanese whisky bar that takes pride in providing an immersive and authentic experience.
The Essence of Gori Gori Peku
Gori Gori Peku's minimalist yet warm décor instantly sets a tranquil mood. The intimate, relaxed setting, coupled with a thoughtful selection of music, transports patrons directly to Japan. Focusing on Japanese whiskies, the bar offers an array of options from renowned distilleries to lesser-known gems. Additionally, the knowledgeable staff are always on hand to help navigate the extensive menu and provide recommendations.
Whiskies and More
The drink menu at Gori Gori Peku is a dream for whisky enthusiasts:
"Yamazaki 12 Years," a rich and fruity option from the pioneer of Japanese whisky
"Hakushu 12 Years," a peated expression with a refreshing and smoky taste
Apart from whisky, the bar also serves a selection of sake, Japanese beers, and light bites that complement your drink.
9. Can Can Wonderland, Saint Paul
Can Can Wonderland is not your ordinary bar; it's a whimsical blend of boozy milkshakes, vintage arcade games, and an artist-inspired mini-golf course.
Fun and Games at Can Can Wonderland
Located in an old canning factory, Can Can Wonderland is an artistic entertainment venue with a vibrant and creative bar. Its lively, carnival-like atmosphere is great for groups and family outings, offering a variety of games and attractions alongside unique, fun drinks.
Shakes and Shots
Can Can Wonderland's drink menu is as playful and creative as the venue itself:
"Cotton Candy Waterfall," a boozy milkshake with rum, blue curacao, and a cloud of cotton candy
"Sipping the Fireside," a whisky cocktail served in a marshmallow-rimmed glass
To accompany your drinks, you can enjoy a round of mini-golf or hit the vintage arcade.
10. The Lexington, Saint Paul
The Lexington, or "The Lex" as it's affectionately known, has been a Saint Paul institution since 1935. It presents a blend of timeless elegance and modern American cuisine.
Classic Elegance at The Lexington
The Lexington offers a grand, old-world charm that feels both luxurious and welcoming. Its three bars — Martini Bar, Williamsburg Room, and the Rooftop — each provide a distinct atmosphere, making The Lex versatile for any occasion. The Martini Bar is known for its classic cocktails, while the Williamsburg Room provides an intimate, plush setting, and the Rooftop offers stunning views of Saint Paul.
Signature Sips and Bites
Their drinks are as sophisticated as their ambiance, with classics including:
"Lexington Martini," a classic gin and dry vermouth combination
"Bourbon Renewal," a cocktail featuring bourbon, crème de cassis, lemon, and Angostura bitters
The Lex also serves a variety of high-quality dishes. Try their famous "Potato-Crusted Walleye" or the "Lexington Burger" with your drinks.
11. The Happy Gnome, Saint Paul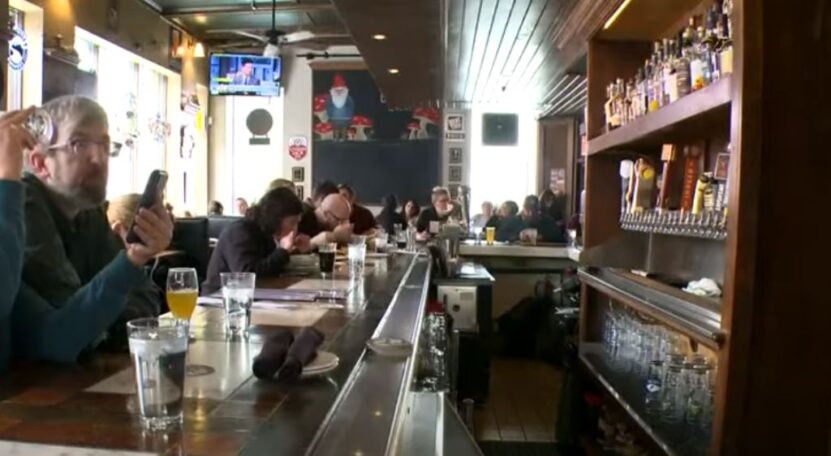 The Happy Gnome is an upscale gastropub known for its vast beer selection and hearty, gourmet pub fare.
The Happy Gnome's Gastropub Charm
The Happy Gnome creates an inviting atmosphere with its rustic, warm décor and friendly staff. It's a paradise for beer enthusiasts, offering an impressive selection of craft beers from around the world, with particular emphasis on local Minnesotan brews. The venue includes a charming outdoor patio, perfect for enjoying a sunny afternoon with a refreshing pint.
Beer Bonanza and Gastropub Delights
Their extensive beer list includes:
"Surly Furious," a local favorite IPA
"Bauhaus Wonderstuff," a refreshing Czech-style pilsner
Pair your beer with some of their elevated pub dishes, like the "Duck Confit Nachos" or the "Wild Boar Cubano Sandwich."
12. Parlour Bar, Saint Paul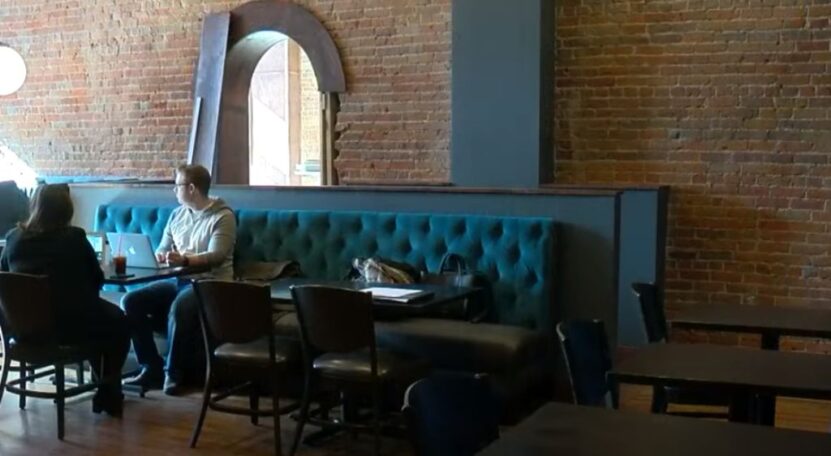 Parlour Bar is the sister venue to the Minneapolis original. This cocktail bar and restaurant serves some of the best cocktails and burgers in the Twin Cities.
Parlour Bar's Allure
Parlour Bar brings a modern, refined atmosphere to Saint Paul. Its dark, moody interior creates a stylish and intimate space, perfect for enjoying expertly crafted cocktails and delicious food. The staff are knowledgeable and friendly, always ready to recommend a drink from their innovative cocktail menu or the perfect dish from their compact but delectable food menu.
Perfect Pairings at Parlour Bar
Parlour Bar's cocktail menu offers creative options such as:
"The Purl," a gin-based drink with Earl Grey tea, lemon, and sparkling wine
"Brown Butter Old Fashioned," a decadent twist on the classic cocktail
Pair your drinks with their famous "Parlour Burger," widely known as one of the best burgers in the Twin Cities.
13. Dark Horse Bar & Eatery, Saint Paul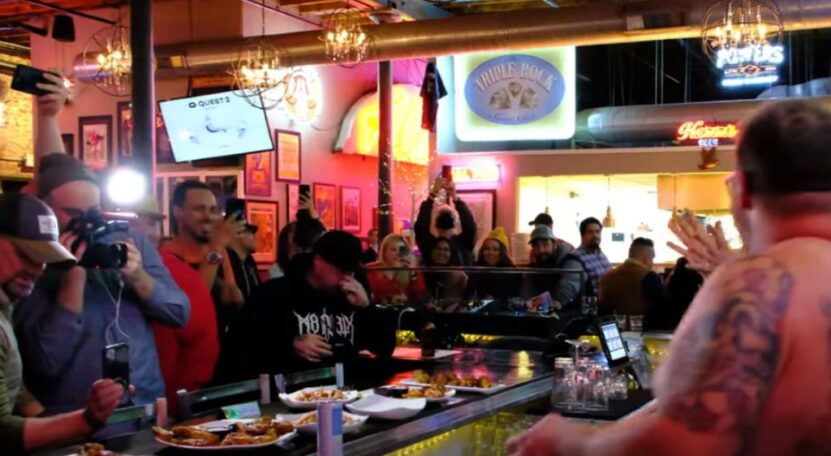 Dark Horse Bar & Eatery is a vibrant gastropub with an eclectic menu and a laid-back, industrial-chic atmosphere.
The Vibrant Energy of Dark Horse
Dark Horse has a trendy, rustic vibe with its exposed brick walls and artwork. Its welcoming environment is perfect for casual meetups, while the outdoor patio and upper level offer a change of scenery. One of the unique aspects of Dark Horse is its menu, which includes a broad selection of craft beers, imaginative cocktails, and an array of dishes with a distinct Eastern European influence.
Flavors of Dark Horse
Their signature drinks include:
"Peachy Keen," a bourbon cocktail with peach, lemon, and basil
"Dark Horse Lager," a house brew that's light and refreshing
For food, consider trying their "Bulgogi Beef Tacos" or "Stuffed Banana Peppers" to enjoy with your drinks.
14. Handsome Hog, Saint Paul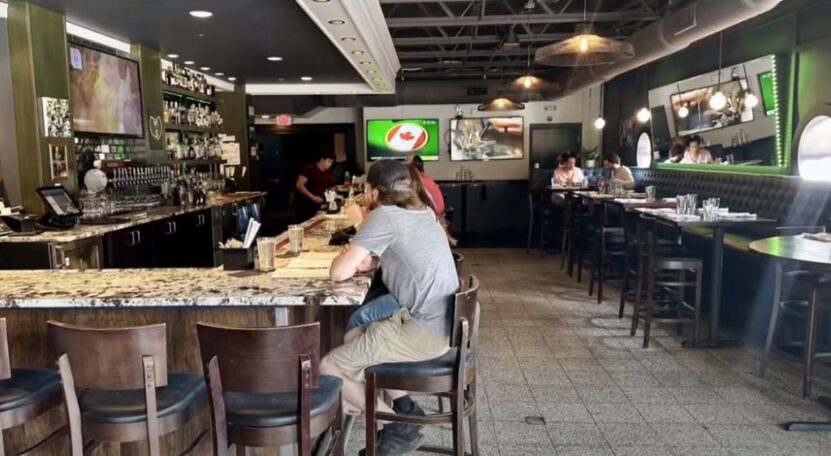 Handsome Hog isn't just a bar, it's a Southern-inspired contemporary dining experience with an impressive whiskey selection.
The Southern Charm of Handsome Hog
Handsome Hog presents a modern, rustic ambiance, with a spacious bar area featuring an open kitchen. The bar and restaurant pride themselves on their "Bourbon and Smoke" theme, showcasing a vast bourbon collection and a menu centered around smoked meats. Their approach to Southern cuisine is contemporary, refined, and utterly delicious, providing a unique complement to their extensive drinks list.
Whiskey and Southern Fare
Handsome Hog's drink offerings are bourbon-focused:
"Handsome Hog Old Fashioned," featuring their signature mix of bourbon, sugar, and bitters
"Bourbon Flight," an opportunity to sample a selection of their extensive bourbon list
Pair your drinks with their "Pork n' Beans" or their signature "Handsome Hog Ribs."
15. Amsterdam Bar & Hall, Saint Paul
Lastly, we come to the Amsterdam Bar & Hall, a Dutch-inspired bar and music venue known for its vibrant atmosphere and eclectic events.
The Amsterdam Experience
Amsterdam Bar & Hall serves up a dual experience: a cozy bar that's perfect for a casual drink and a dynamic event space that hosts everything from live music to trivia nights. Its long wooden tables and quirky Dutch-inspired decor make it an inviting spot for socializing. The drink menu is a celebration of beers, featuring both local brews and imported Dutch beers. The food, meanwhile, includes a selection of Dutch-inspired bar snacks and sandwiches.
Brews and Bites at Amsterdam Bar & Hall
At Amsterdam, you can expect to find:
"Holland's Hope," a crisp and hoppy Dutch lager
"Boom Island Witness," a locally brewed Belgian-style wheat beer
On the food side, try the "Frikandel Speciaal," a Dutch-style hotdog, or the "Bitterballen," deep-fried meatballs served with mustard.
Closing Thoughts
From the chic and sophisticated to the playful and quirky, the Twin Cities bar scene truly has something for everyone. Whether you're a cocktail aficionado, a craft beer enthusiast, a whiskey connoisseur, or simply someone in search of a good time, these 15 bars provide an array of experiences that encapsulate the diverse, dynamic spirit of the Twin Cities. The next time you find yourself in Minneapolis or Saint Paul, be sure to explore these outstanding watering holes!